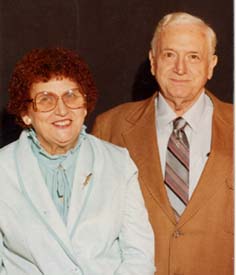 My Life Story
as narrated by Mary Angeline Sortman Kruise
My father's name was Arthur Franklin Sortman, my mother's, Anna Hanora Simons Sortman. They were married April 3, 1901. My mother's parents, Andrew and Maryellen (Maley) Simons, had six daughters. Their names were Maryellen (Aunt Pearl), Anna (my mother), Esther, Caroline (Aunt Carrie), Catherine (Aunt Dolly), and Eleanore (Aunt Norie). They also had two sons, Harry and Charles.
MY CHILDHOOD
My father's parents were Charles and Angeline (Butler) Sortman. They had five boys by the names of George, Edward, Robert, Clarence, Arthur (my Dad), and Charles. They also had five girls with the names of Ida, Kate, Blanch, Mollie, and Alice. My grandfather Charles died when my dad was ten years old.

I was born May 1, 1916. My mother always said I spoiled her lunch that Wednesday. I was the sixth child, following Paul, Annabelle, Dorothy, Charles and Marjorie. I also have three siblings younger than me, Eugene, Robert, and Phyllis. I was born at Xenia Avenue in Dayton Ohio. After I was born, Dad bought a house at 17 Caho Street in Dayton. It was a short block (7 houses on each side) between Nasau and Dover Street. Lincoln School, which I attended from kindergarten to sixth grade, was four blocks up the hill on Dover St. I was an average student, loved to read, play with paper dolls, roller skate, play jacks, jump rope and hopscotch. I went to the library to get books every other week.

I contracted Polio in my first year of life. I was around 9 months old when I fell off a chair and broke my left shoulder blade. There was a Polio outbreak at the time and somehow I got it. Doctors wanted me to wear a brace, but my father wouldn't hear of it. I have memories of falling out of my second story bedroom window when I was five. The wooden shutters were blown open and I thought I was a bird. I got lots of ice cream, they were thankful that I just bruised myself. Once, we were using a board (as a diving board), placed against an old table, to play like we were swimming. I fell off and landed on my tummy and had the breath knocked out of me. My brother Charles (Chick) performed Artificial Respiration (before CPR) on me to get me breathing again. A catastophe for my mother. I also fell on a picket fence- OUCH!! That hurt.

Mostly I remember going to N.C.R. (National Cash Register Company) where my Dad worked. They had Saturday Matinees for the children. They always gave us a treat afterward, like cookies, candy, or fruit. At Christmas they gave us a box of candy and an apple or an orange.

My grandmother Sortman played Santa Clause on Christmas Eve with my Aunt Kate as her helper. She knocked on the windows and said "You'd better be good", then she went away. She also played the organ at her home at Christmas time. I went to the Haynes Street Baptist Church from kindergarten to sixth grade. That's where I learned all the songs that I sang at Grandma Sortman's when she played the organ.

When I was twelve, my Dad worked at the Ethyl Gasoline Corporation and was transferred to Detroit, Michigan in 1928. He worked at the Milwaukee Avenue location. At that time we lived on Gray Avenue near Charlevoix and Mack.

My brother Paul was the bossy one at home, I suppose because he was the oldest. He married Alma when he was in the service. He made his living as a machinist salesman.
Annabelle was our second mother and cleaned and took care of us when Mom was sick. She loved get togethers and playing cards. She married Louis Wellmier whom she met when she worked at the drugstore near our home. She was a telephone operator for Ohio Bell Company and got 10% off our phone bill.
Dorothy was always quiet and easygoing. She met Roy Williams at church and they married.
Charles (Chick), alwyas did as he was told and was quiet and easygoing too. Eva McKieg, whom he married, was a friend of Marge's. They used to take us all around with them. He was a neat brother.
Marjorie (Marge) was my buddy -- we did everything together. I remember being jealous of her in the 7th grade because she could play the harmonica. When I got to the 7th grade, I never got the privilege. She was also on the school volleyball team. She knew Camiel, and went on a fixed up date with him. They, of course, eventually married.
When Gene was a baby, he looked scrawny, so Mom fed him bananas and the cream off the top of the milk. I remember when he was grounded from using the car as a teenager, and he snuck it out by coasting out of the drive with the headlights off. He was in BIG trouble!
Robert (Bob) was our little devil. He was always clowning and joking around. We would go to church together. I remember once when he fell off a fire hydrant and cracked his head open. He was a ladies man -- and moved to California with Mom and Dad when he was 16. (He married his third wife Zona out there.)
Phyllis was our baby - we babysat for her. She was ten when she moved to California with Mom and Dad. She married Dan Biehler when she was 16, never finishing high school.
SCHOOL
I started Carson school in the 7th grade. When I was in 7A, they transferred us to Jackson Intermediate School. I graduated from there in 1931, and went on to high school. When I graduated they would hand out diplomas to us during the ceremony, and we would meet out in the hall later to exchange them for our own. Neil McCarrin had my diploma and he made me kiss him to get it. Then I went to Southeastern High School. I joined the Girl Reserves. It was affiliated with the YWCA. We wore white uniforms with a blue tie with Girl Reserve on it in gold. It was a christian organization. We had prayer services, song fests, parties, and all kinds of social gatherings. Southeastern was located on Fairview Avenue. Our graduation ceremonies took place at the Brodhead Naval Armory on Jefferson in June of 1934.
MY FRIENDS
I started going to church at the Cadillac Boulevard Presbyterian Church when I was twelve. I attended with my girlfriend Phyllis. Then in high school I went to East Minister Presbyterian Church with my other friend Ruth. I had another girlfriend Myrtle, whom I used to go to dances and shows with. We all went to high school together.

Many years later, I read in the newspaper that Neil McCarrin's brother was killed during World War II. I called him to extend my sympathies. He said "Just a minute my wife wants to talk to you." I didn't know his wife and was hesitant to speak to her, only to find out he married my friend Phyllis.

On my nineteenth birthday, May 1, 1935, we wanted to do something special. So we went to the Vanity Ballroom. It was ladies night free. That's where I met Larry (the best birthday present I ever had). Because he was friends with Agnes Lee and Al Johnson(friends of mine), I agreed to meet him on the following Sunday at the ball room. We went together for ten months, going to dances and shows and such.
MY MARRIAGE
Larry and I were married at St. Marks Methodist Church on Jefferson Avenue on March 26, 1936. Marge and Camiel stood up for us, and Alma and Mom gave us a family supper with a wedding cake. Larry's boss and the fellow he boarded with came to the wedding. Larry worked for a Ford dealer (Fred Platte) on Charlevoix Street. Mother made us go to a studio for our wedding pictures. We stayed at Mom's for two weeks while they went to California. That next year my parents moved there, due to a job transfer.

We lived in an apartment on Manistique and Charlevoix for a year. Then we moved to a four family flat on Coplin. We had Friskie the cocker spaniel there. Our first child Lawrence Anthony Jr. was born there on June 27, 1938. When I was expecting Shirley Anne, we moved to a two family flat on Wayburn in Grosse Pointe. She was born November 8, 1939.

The next summer I was expecting Karen Jean and we moved to Hickory Avenue in Detroit, where we lived for 48 years. Karen was born December 26, 1940. What a belated Christmas present she was . . . a real live doll. We skipped the next year, and had Maryellen (Mecki) on March 4, 1942. I had my hands full with the four little ones. I kept trying for another boy. James Arthur was born July 3, 1943. Larry Jr. finally got a little brother, our little firecracker. We tried to give Jim a brother but we go Kay Frances. Our sweet bashful little girl on October 6, 1944. She was our baby for four years. Unfortunately I miscarried little John Allen in September 1948. The doctor said I wouldn't have any more children. But behold, I was pregnant again in 1950 and had Charles Eugene on March 13, 1951. Then in 1957 we had Linda Suzanne on March 4th. What a birthday present Maryellen got, a real live doll. She would have rather had a boyfriend.

My husband was a hard working, giving individual. He worked hard at his garage, gave his kids love by taking them out when he had time. We always had plenty to eat, a nice home, and dressed fairly well. I remember him taking the six children to the store and buying them shoes, gym shoes, clothes, coats, hats, gloves, and boots when they started school. At Christmas and Easter they all got new outfits. I think we were luckier than most families. He was always lending a helping hand to those that were stranded out somewhere in their cars, he always found a way to get them home. In the summer he would take us on day picnics on Sunday. One winter he build an ice skating rink in our back yard, and a pool in the summer. The kids all had bikes and a wagon. Remember the time he built a bike with a bucket on it to haul groceries? We all loved him very much.

After 51 years in a loving marriage, Larry passed away due to a massive stroke in 1987. He was 79 years old and was active until the day he died.
RELIGION
I went to Haynes Street Baptist Church from kindergarten to sixth grade. When we came to Detroit, I went to Cadillac Presbyterian Church for a while. Then I started attending East Minister Presbyterian Church. We went to Sunday school and later when I was to marry, my teacher Mrs. Carlson gave me a "kitchen shower" with my Sunday school class. We were married at St. Marks Methodist Church on Jefferson Avenue. As my husband was born a Catholic, we didn't go to any specific church, and then only occasionally.

When Shirley was five, she went with a neighbor girl, Pat Johnson, to Messiah Methodist Church. Then as the girls got older they went there as well. I only went on special days. When Linda was baptized, Charlie, Kay and I were baptized at the same time. We continued to attend that church until Linda married Allen (Pierce) and they transferred to Christ United Methodist Church in Fraser. I joined the church in 1994. We have been going there ever since. All my children are married and go to different churches. I know they all live a good life.
MY CHILDREN
Larry Jr. got all the spankings because he was the oldest and ring leader. He was in the Navy, and missed his family. Now he is working hard for his family. He always said "you don't appreciate your family until you have kids of your own". He has a good job at Ford Motor Company as an electrician. He has a beautiful loving wife, Karen Stewart, and four children: Carol, Robert, Nicole, and David. We have wonderful get togethers at their home in Milan, Michigan, they are great hosts.

Shirley is an accomplished artist and Teacher. She is divorced with two adult children - Steve and Debi, and has five beautiful grandchildren.

Karen is a loving daughter, being helpful in any way she can. She married Fred Loos, and had three daughters and a son. Sheryl, Kelley, Michelle, and Brian. Kelley succumbed to leukemia in 1983. She (Karen) has five lovely grandchildren.

Maryellen (Mecki) married Dave Viall, and they had two children, son Scott, and daughter Dawn. Dave worked for the Ford Motor Company before he retired. They are enjoying his retirement by traveling in their fifth wheel.

Jim is in partnership with Charley at their father's collision shop in Detroit. He married Cathy Tomassi and they have three children: Jennifer, Jimmy and Jason. They are a wonderful couple and everyone loves them.

Kay married Don Beaulieu and has two daughters: Tracey and Heather. She works in the enrollment office a Macomb Community College. Don works for the Budd Company as a systems analyst. Kay loves the family and does what she can to make everyone happy like playing Santa at Christmas, and dresses as a clown for the local grade school near her home where she has been a volunteer in the media center for sixteen years. Now if we could only get the bunny suit for Easter for the kid, wouldn't that be something!

B Charles married Maxine Banaczyk and they have a son named Brandon. Charley is in partnership and works at Kruise Collision with his brother Jim. Maxine works in an office and teaches piano lessions in their home. She has a degree in music. They are busy with their jobs and Brandon's sports activities.

Linda is in the choir and busy working with the children. She married Allen Pierce and they have two daughters, Laura and Hannah. She is busy taking care of her family and me. I know I am an extra burden but she does fine taking care of all my needs. Allen works right along with her besides working at National Bank of Detroit.

This is my family and I love each and every one of them.
MEMORIES
All my brothers and sisters were born at home. When Phyllis was born, they laid her on the bed, and we counted all her fingers and toes.

My Dad used to make the best taffy.

When Marge and I had diptheria, they put two twin beds in the front room. I was delirious with fever when I saw fluttering wings and felt a warmth come over me. We were quarantined and Dad had to stay next door at Aunt Anne's for a couple of weeks. No one else in the family got it.

All my children went to Gabriel Richard Grade School and had Mrs. Maxey for kindergarten. She also taught Sunday school at Messiah and was a good friend through the years. She was at all the weddings and doings.

We lived on Hickory in Detroit, Michigan for 48 years. When Larry died on July 13, 1987, we continued to live there for another year. We then moved to the house on Thomas in Warren, Michigan. Linda married Allen in 1989, and we moved to Mavis in 1992, and have been there ever since.
This page has been accessed
times.